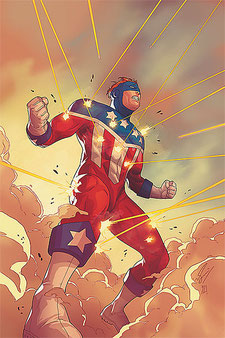 Tomorrow, the final issue of The Shield is on store shelves, a fact that is both a relief and not inconsiderably melancholic. 
From a purely technical standpoint, the pressure of a monthly book under my byline pushed me pretty hard, and one major outcome of it all is that I'm simply much faster than I used to be. (Issue 7 of the series, for example, was written in one, five-hour sitting, and is probably my favorite of the whole run.) 
I'll miss Joe Higgins terribly, because he's exactly the kind of hero I have always wanted to write. His heroism is pragmatic, intelligent, and unironic; in many ways, Higgins is the kind of person I would like to be, and -- quite honestly -- am not. 
Which brings me to the real stars of the show: the art team. 
Marco Rudy is a profoundly talented illustrator; cheerful, engaged, communicative, and boundlessly enthusiastic. And the fact that he's so young leads me to one inescapable conclusion: Watch him closely.  He's a major talent, and he's going to be a huge star in the comics field, very soon. 
Mick Gray is one of the first inkers -- along with Klaus Janson -- whose work I could identify on sight, when I first started paying real attention to such things. His work with Mike McKone (on Punisher War Journal) was eye-opening, and when I learned his clean, crisp, unbelievably-precise line was to be applied to Marco's pencils on The Shield, I literally danced for joy. 
Art Lyon -- who also brought his talents to JSA Vs. Kobra -- is also a treat to work with. We've only spoken a handful of times, but his investment in the stories we were telling was clear. Art brought a lot to the book -- all those crazy computer screen heads-up-display images in the Shield warsuit? That was Art. -- not the least of which was his fine sense of color and light, his willingness to experiment, and his enthusiasm for the project. 
Thanks are also due to Cliff Richards (who stepped in on issues 4 and 8 to give Marco breathing room for the final push of the series); Wayne Faucher (who contributed inks), Sal Cipriano and Randy Gentile (who ably lettered the book); Richard and Tanya Horie (who also contributed color art); Francis Manapul and Sami Basri for their lovely covers; Brandon Jerwa, for his excellent Inferno and Fox stories; Greg Scott, Michael Gaydos and Michael Avon Oeming, for drawing them; and of course Rachel Gluckstern who kept our feet to the fire.
Too often, comics are perceived as a one-  or two-man operation, but that's rarely the case, and if you enjoyed The Shield, it was because of all these diverse talents working toward a shared goal. 
For that, you all have my profound thanks--my fellow creators, and those of you who shelled out your hard-earned cash to read Joe Higgins' adventures.