THE OLD GUARD, BOOK TWO: FORCE MULTIPLIED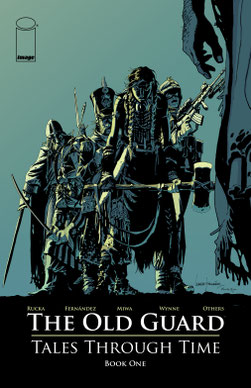 Written by: Greg Rucka
Art by: Leandro Fernández
Colors by: Daniela Miwa
Lettered by: Jodi Wynne
Edited by: Alejandro Arbona
Book Design By: Eric Trautmann
Sixty-seven hundred year old Andromache "Andy" the Scythian, Nicolo "Nicky" of Genoa, Yufus "Joe" al-Kaysani, and newbie immortal Nile Freeman return to the good fight in the acclaimed miniseries by New York Times bestselling creators GREG RUCKA & LEANDRO FERNÁNDEZ…now a Netflix motion picture!
When you've waged war as long as Andy and her squad, you've gotten your hands more than bloody. Now, the day has come to confront the sins of the past. But as Nile struggles to make peace with the team, the last person Andy ever expected to see again returns to challenge not only what Andy believes in, but what the team is willing to fight for.
Collects THE OLD GUARD: FORCE MULTIPLIED #1-5
Image Comics | Color | 128pgs | Mature | $16.99US
ISBN-10: 153431377X
ISBN-13: 978-1534313774
Diamond ID: JUL200122
Order on Amazon.com
THE OLD GUARD, BOOK ONE: OPENING FIRE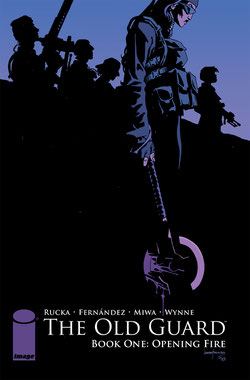 Written by: Greg Rucka
Art by: Leandro Fernández
Colors by: Daniela Miwa
Publication Design by: Eric Trautmann
Collecting the critically acclaimed miniseries by GREG RUCKA and LEANDRO FERNANDEZ.
Old soldiers never die…and some of them don't even fade away. Cursed with immortality, Andromache of Scythia and her comrades-in-arms ply their trade for those who can find—and afford—their services. But in the 21st century, being immortal is a difficult secret to keep, and when you live long enough, you learn that there are many fates far worse than death. Collects THE OLD GUARD #1-5
Image Comics  |  Color  |  128pgs.  |  Mature  |  $9.99US
ISBN-10: 1534302409
ISBN-13: 978-1534302402
Diamond ID: JUN170687
Cover Gallery
Featuring exclusive covers for DCBS, Newbury Comics, and Sub-City Comics.