BOOK DESIGN
WILD TIMES: AN ORAL HISTORY OF WILDSTORM STUDIOS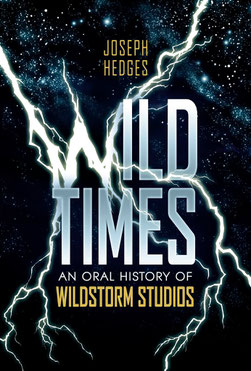 AUTHOR: Joseph Hedges
COVER DESIGN: George Sellas
LAYOUT AND TYPESETTING:
Eric Trautmann
With over 75 participants and close to 80 hours of interview transcripts all combined into a chronological oral history format, Wild Times looks at WildStorm Studios' history through the journeys of the people that lived it. Equal parts an inside glance at the inner workings of the comic book industry, a look back at WildStorm's publishing history as well as overviews of the careers of some of comics' brightest stars when their paths crossed with WildStorm, Wild Times provides a unique glimpse at the impact of the studio from its beginnings in the early '90s through its closing in 2010. Celebrate WildStorm's amazing tale with artists- J. Scott Campbell, Carlos D'Anda, Adam Hughes, Gene Ha, Dustin Nguyen; writers- Brian Azzarello, Brian Wood, Kurt Busiek, James Robinson, Christos Gage; colorists- Alex Sinclair, Laura Martin, David Baron, Justin Ponsor; editors- Scott Dunbier, John Layman, Ben Abernathy, Ted Adams and many, many more!
Paperback: 338 pages
Publisher: Esposito & Hedges, LLC (2017)
ISBN-10: 0998595403
ISBN-13: 978-0998595405
SAMPLE PAGES
All text © Esposito & Hedges, LLC
MUSCLE & BLOOD: THE FIRST HAL TAYLOR MYSTERY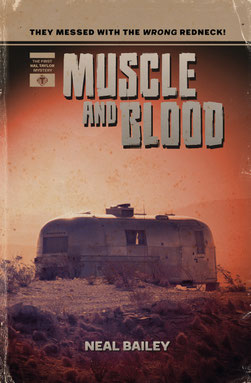 AUTHOR: Neal Bailey
COVER, DESIGN AND TYPESETTING: Eric Trautmann
A TRAILER PARK HERO. A TWO-FISTED MURDER MYSTERY. A HELL OF A RIDE.
Hal Taylor just wants a stable life. A good life. The life he feels was taken from him unfairly.
Instead, he's a hired goon for the local crime boss, and his hopes have been tucked away in a dresser drawer.
A cakewalk job to secure a wealthy young woman for her father seems like a chance to make some cash…until Hal's luck runs true to form. Waking up on the floor of a hotel bathroom to the sounds of blaring sirens, he finds a body he doesn't recognize cooling in the tub, and from then on, he's on the run.
Now Hal has to find out who killed the stranger, rescue the missing girl, and maybe–just maybe–get that community college application turned in.
WHEN YOU HAVE NOTHING, YOU HAVE NOTHING TO LOSE. JUST MUSCLE AND BLOOD.
Paperback: 336 pages
Publisher: Treadwell Enterprises, LLC
Price: $9.99US
SAMPLE PAGES
© Neal Bailey / Treadwell Enterprises, LLC.
"OWE MY SOUL": THE SECOND HAL TAYLOR MYSTERY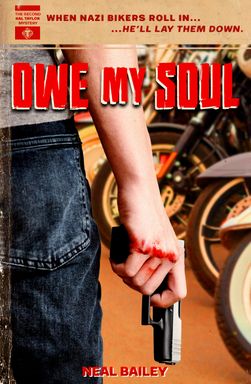 AUTHOR: Neal Bailey
COVER, DESIGN AND TYPESETTING: Eric Trautmann
HE WON'T STOP UNTIL EVERY ONE OF THESE NAZI BIKER SCUMBAGS IS DEAD.
Hal Taylor thought his life was ready for the good ol' junior college try. But as is always the case when he thinks things are looking up, a fly lands in his beer. This time, the fly in question is a Nazi piece of trash who walked into Hal's favorite bar and started picking fights. Yeah, maybe Hal punched that bigot right off a moving motorcycle, but let's be honest here: the Nazi bastard had it coming.
The problem is that guy had buddies, and when they take their revenge on one of Hal's closest friends, what was a minor stand against racism becomes a mission of survival. Hal quickly finds himself embroiled in conspiracy, blood, and violence that stretches far beyond one fascist motorcycle club and all the way to the movers and shakers in the rich part of town.
Falling back into his two-fisted ways--maybe a bit too easily--Hal has to risk everything he's earned to defeat a veritable army of evil, clear his name, and extract vengeance without becoming the very thing he hates the most: his old self.
THEY CAME TO TAKE HIS SOUL. HE'LL GIVE THEM THE BEATING OF THEIR LIVES.
Paperback: 329 pages
Publisher: Treadwell Enterprises, LLC
Price: $12.99US
SAMPLE PAGES:
© Neal Bailey / Treadwell Enterprises, LLC.
"GLORY"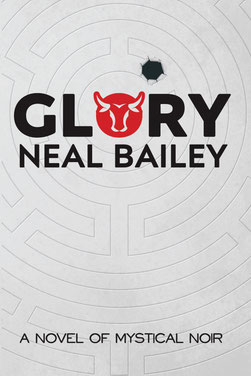 AUTHOR: Neal Bailey
COVER, DESIGN AND TYPESETTING: Eric Trautmann
A CRIME STORY OF DRUGS, ANCIENT VENDETTAS, AND MURDER. PLUS: MINOTAURS.
Glory is your typical twenty-three year old college dropout. She sleeps on her mom's couch, scores weed for her prudish brother, and is just doing what she can to get by and figure out what she wants from life.
That is, until she's swept into a centuries-old war between rival immortals.
Oh, and she's an immortal herself, so that's a thing that happens.
To get to the bottom of a supernatural civil war, Glory has to find a way to kill the unkillable (yeah, right), defeat an army of trained assassins using little but her wits (nope), and somehow get the drugs to her brother before she cops a possession charge (she's screwed), and along the way, maybe save the world (we're probably screwed too)....
SEX, DRUGS, and ETERNAL LIFE.
Paperback: 256 pages
Publisher: Treadwell Enterprises, LLC
Price: $12.99US
SAMPLE PAGES
© Neal Bailey / Treadwell Enterprises, LLC