LAZARUS SOURCEBOOK, VOL 002: HOCK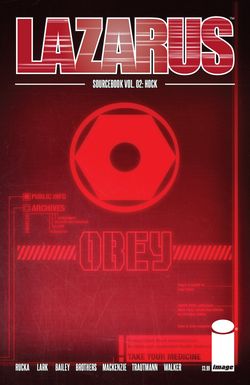 Written by: Greg Rucka, Neal Bailey, Dave Walker, David Brothers, Eric Trautmann, Robert Mackenzie
Art: Michael Lark, Owen Freeman
Cover: Eric Trautmann
Layout and Design: Trautmann
Lazarus Sourcebook, Vol. 002: Hockbrings you behind the "Pharma Curtain," and details the inner workings of the Family Carlye's most implacable foe: Hock.
Image Comics |  40 pg.  |  Color  |  $3.99US
LAZARUS SOURCEBOOK, VOL 001: CARLYLE
Written by: Greg Rucka, Dave Walker, David Brothers, Eric Trautmann, Robert Mackenzie
Art: Michael Lark, Owen Freeman
Cover: Eric Trautmann, Owen Freeman
Layout and Design: Trautmann
A guide to life under Carlyle rule; this illustrated handbook details the geography, economy, military, and pop culture of the dystopian world of Lazarus.
Image Comics |  40 pg.  |  Color  |  $3.99US