In addition to cover design, Eric puts together design pages, bonus material, cover layouts and so forth for the collected editions of the Image comics series, Black Magick.
BLACK MAGICK VOL. 001: AWAKENING TPB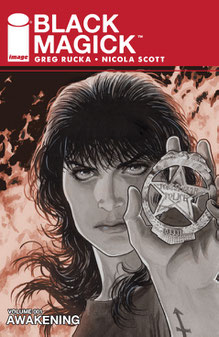 Written by: Greg Rucka
Art by: Nicola Scott (w Chiarra Arena)
Colors by: Chiarra Arena
Cover A by: Nicola Scott (w Eric Trautmann)
Newberry Comics Exclusive Cover by: Stephanie Hans
Publication Design by: Eric Trautmann
SPECIAL LOW INTRODUCTORY PRICE OF $9.99!
Rowan Black is a detective with the Portsmouth PD... and a witch, two aspects of her life she has struggled to keep separate. Now someone is targeting Rowan, someone who knows her secrets and means to expose her... or worse. Collects BLACK MAGICK #1-5 plus exclusive bonus material—Nicola's Black Magick sketchbook, script-to-final process and a complete cover gallery.
Image Comics  |  Color  |  128pgs.  |  Mature  |  $9.99US
ISBN-10: 163215675X
ISBN-13: 978-1632156754
Diamond ID: JAN160635