FLASH FICTION
Eric has writing "flash fiction" and short fiction (originally for publication via his now-defunct Google+ page). Ultimately, they will be collected in a DRM-free digital anthology download here. Click on the images below to link directly to the stories. 
When meeting an alien species for the first time, it's a good idea to stay on-message. 
Better living through marketing initiatives. 
PUBLISHED FICTION
ATHENA VOLTAIRE: PULP TALES (VOL. 01)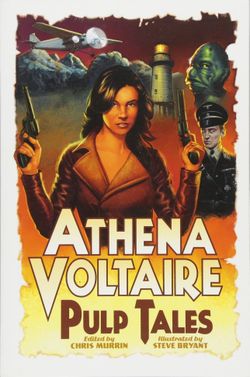 By Tom King, Corinna Bechko, Gabriel Hardman, Eric Trautmann, Will Pfeifer, Genevieve Pearson, Dirk Manning, Michael May, Caleb Monroe, Mike Oliveri, October Crifasi, Marc Mason, Chris Murrin, Ron Fortier, Elizabeth Amber Love, Ryan Schrodt, Brad Keefauver, and Steve Bryant.
Cover and illustrations by Steve Bryant.
Introduction by Paul Malmont.
Over a dozen authors tell swashbuckling tales of globetrotting aviatrix Athena Voltaire! With illustrations by Steve Bryant, this collection of short stories in the spirit of the pulps sees Athena battling adversaries old and new, dodging lethal traps, fighting creatures natural and supernatural, and meeting some of history's most influential figures.
(Eric's contribution to this pulp anthology is "THE CURSE OF DESTRUCTION ISLAND"—a tale of zeppelins, stolen money, aviation, ghosts, and murder.)
Paperback: 320 pages
Publisher: Action Lab Entertainment 
ISBN-10: 1632293110
ISBN-13: 978-1632293114
Price: $14.99US
CRIMSON SKIES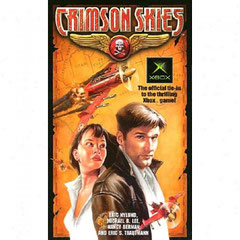 By Eric Nylund, Michael B. Lee, Nancy Berman and Eric S. Trautmann.

Welcome to the world of Crimson Skies!
The United States is a land torn apart by epidemic and war. With chaos on the ground, America's highways have been forced into the skies, a lawless new frontier where the flying ace—hero, pirate, villain—is king. Here are the exciting, danger-packed adventures of three such daredevils:

"The Case of the Phantom Prototype" by Eric Nylund. A hefty payday convinced dogfight genius Paladin Blake to fly a top-secret aircraft into the Mojave Desert. But on this job, Blake must not only save himself, but thousands of others slated for death by an unseen foe.
"'Genghis'" Kahn & the Manchurian Gambit" by Michael B. Lee. Why is the notorious leader of the Red Skull Legion pirate gang rescuing a lady in distress, returning gold, and duking it out in blazing air battles from Manhattan to Manchuria with no plunder in sight? Wonders never cease.
"Bayou Blues" by Eric S. Trautmann and Nancy Berman. Ever since flying ace Nathan Zachary made a pirate ship out of a stolen zeppelin, the gentleman air-pirate and his "Fortune Hunters" gang have roamed the globe in search of money, fame, and adventure. But a double-dealing Cajun sky-thief, a crooked businessman, and a pair of star-crossed lovers may just trump this ace in a high-stakes, high-altitude con game.
Mass Market Paperback: 320 pages
Publisher: Del Rey; First Edition edition (October 1, 2002)
Language: English
ISBN-10: 0345458745
ISBN-13: 978-0345458742