ART
I occasionally shake the rust loose by doing some graphic design/poster design work. Here's where I put it.  

Poster: Per Aspera Ad Astra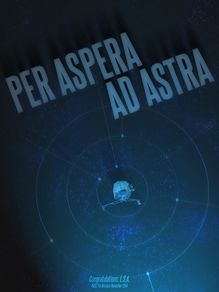 Designed in honor of the successful European Space Agency ROSETTA mission to land a probe on the surface of a comet. Per Aspera Ad Astra is Latin for Through hardship to the stars. 
Per Aspera Ad Astra Poster
150 dpi PDF file, 18 x 24 inches.
Ad Astra_Poster_150dpi.pdf
Adobe Acrobat Document
9.4 MB
Poster: Adam Strange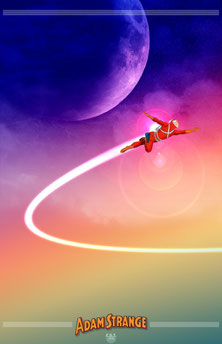 One of my favorite DC Comics science-fiction heroes is Adam Strange -- an archaeologist zapped away to the mysterious planet Rann by an errant "Zeta Beam". Part Indiana Jones, part Flash Gordon, the character has endured in part because of Carmine Infantino's Atomic Age character design (one which made a shark fin on the helmet look amazing). I put this together as a fun palate cleanser after the hustle and bustle of Free Comic Book Day. The moon is a brush I downloaded from deviantArt, and the clouds are also downloads I heavily modified and blended with my own photography. Enjoy!
Adam Strange Poster.pdf
150 DPI RGB 11 x 17 in. .PDF file. Adam Strange is the property of DC Comics.
Adam Strange High Res_Flat.pdf
Adobe Acrobat Document
1.8 MB
Poster: "Tales of ASTONISHING SCIENCE!"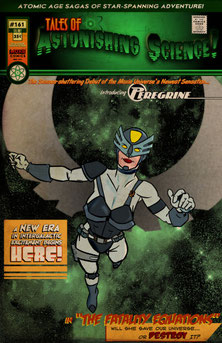 A long time ago, I was preparing to run -- with a group of like-minded friends -- a roleplaying game (specifically, a superhero game using the wonderful Mutants & Masterminds game system, published by Green Ronin games). 
I had done a detailed design of the setting, and populated it with all manner of nefarious villains and valiant heroes. The setting, "Heritage Falls," was a mash-up of 1950s DC sci-fi comics and 1960s Stan-and-Jack pop art weirdness. 
Along the way, I determined that one of the storytelling mechanisms would be the fictional publication history of the "Moxie Comics Group," and I ended up spinning up completely made-up biographical information about the "publisher," Horace "Hoagy" Morgenthal -- a dapper, distinguished gentleman with a quick wit and an eye on developing printing techniques. 
Eventually, "Hoagy" passed away and left the business to his son, Roarke "Rory" Morganthal, who pushed for more psychedelic and experimental material, until the line folded in the mid-1970s. 
"Moxie Comics" published dozens of titles -- "Vault of the Weird," ".38 Special Stories," and more, but it's flagship title was "Tales of ASTONISHING SCIENCE!," featured here. 
(I planned on, for each player, giving them a full-color "cover" of the "debut issue" of their hero. The initial attempts were pretty poor, but I took another crack at interstellar renegade "The Peregrine.")
Offered in an "aged" and worn finish, or a clean, "near mint" version. 
TALES OF ASTONISHING SCIENCE! (Aged) .pdf
150 DPI RGB .PDF (with aging effect).
Tales of Astonishing Science_Aged.pdf
Adobe Acrobat Document
8.5 MB
TALES OF ASTONISHING SCIENCE! (Nearmint) .pdf
150 DPI RGB .PDF (clean)
Tales of Astonishing Science_Nearmint.pd
Adobe Acrobat Document
7.8 MB
TALES OF ASTONISHING SCIENE! (Aged) .jpg
72 DPI RGB .JPG (with aging effect)
Tales of Astonishing Science_Lowres_Aged
TALES OF ASTONISHING SCIENE! (Nearmint) .jpg
72 DPI RGB JPG (clean)
Tales of Astonishing Science_Lowres_Near