A STAR-STUDDED ANTHOLOGY EVENT!
The bestselling, critically acclaimed THE OLD GUARD, now a hit Netflix movie starring Charlize Theron, returns with all-new stories by writers GREG RUCKA, VITA AYALA, BRIAN MICHAEL BENDIS, KELLY SUE DeCONNICK, MATT FRACTION, DAVID F. WALKER, and more, and artists LEANDRO FERNÁNDEZ, RAFAEL ALBUQUERQUE, MIKE HENDERSON, VALENTINE DE LANDRO, JUSTIN GREENWOOD, KANO, NICOLA SCOTT, and more!
THE OLD GUARD: TALES THROUGH TIME (#2 of 5)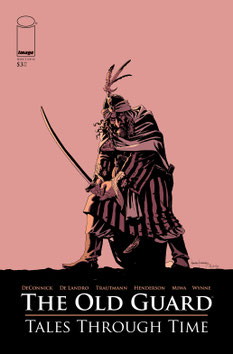 Written by: Kelly Sue DeConnick, Eric Trautmann
Art by: Valentine De Landro
Covers by: Leandro Fernández (A and C covers); Valentine De Landro (B Cover)
Colors by: Daniela Miwa
Letters by: Jodi Wynne
Edited by: Alejandro Arbona
Logo/Design by: Eric Trautmann
Watch the smash-hit Netflix movie starring Charlize Theron! KELLY SUE DeCONNICK and VALENTINE DE LANDRO (BITCH PLANET) take the immortal warriors to feudal Japan!
Plus, ERIC TRAUTMANN (LAZARUS X +66, Checkmate) and MIKE HENDERSON (NAILBITER) plunge Booker into an Old West shootout with echoes that reverberate today!
Image Comics |  32 pgs. | Color | Mature Readers | $3.99US