HARDCOVER COLLECTIONS
ATOMIC ROBO: THE TEMPLE OF OD HC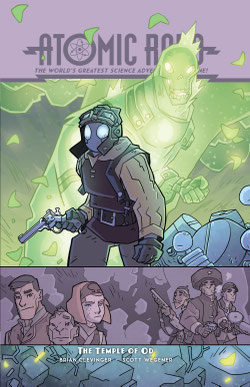 Written by: Brian Clevinger
Art by: Scott Wegener
Colors by: Anthony Clark
Letters by: Jeff Powell
Cover by: Scott Wegener
Book Design and DOCTOR DINOSAUR FILES Design by: Eric Trautmann
Produced by Tesladyne as a Kickstarter limited edition product, Tesladyne presents:  Atomic Robo: The Temple of Od .
Occupied Manchuria, 1938. Atomic Robo is volunteered for a new secret mission to track down China's top quantum physicist, who has been captured by the Imperial Japanese Army to develop a super weapon powered by the theoretically unlimited "zero-point" energy source. Robo can't catch a break with these would-be conquerors and their bizarre energy sources, can he? Luckily, he's got some help from an unexpected but familiar face.
This volume also includes excerpts from the Secret Files of Doctor Dinosaur—from his time traveling days with Al Capone in 1930s Chicago to his all-powerful gumbo recipe, not available in the softcover. 
ATOMIC ROBO: THE SPECTRE OF TOMORROW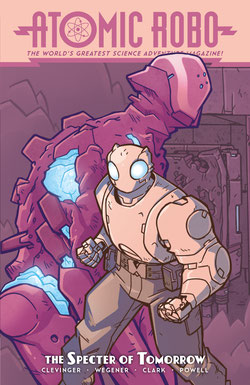 Written by: Brian Clevinger
Art by: Scott Wegener
Colors by: Anthony Clark
Letters by: Jeff Powell
Cover by: Scott Wegener
Book Design by: Eric Trautmann
Remember the old days when all you had to worry about were mad scientist-dinosaurs or giant sea mutants with lasers? But not in 2017!
Atomic Robo delves into the chaos that is modern America, where everything is horrible all of the time!
But that's why Robo is setting up the new Tesladyne Institute in the badlands of New Mexico's Jornada del Muerto desert, with Sir Richard Branson's Spaceport on one side and Elon Musk's Solar Farm on the other. With neighbors like these, who needs to uncover an insidious plot that threatens the lives of everyone in the world?
IDW Publishing  |  Color  |  128 pages  |  Teen  |  $17.99US
ISBN-10: 1684052343
ISBN-13: 978-1684052349
Diamond Code: MAR180546