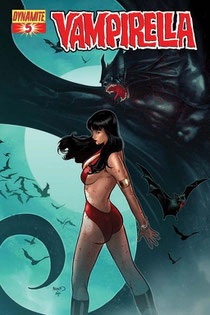 The first issue of Vampirella sold quite robustly, it seems. According to Diamond Comic Distributors -- the principal wholesaler of comic books to the English-speaking world -- Vampirella #1 topped the "Non-Premier" sales charts.  
From the Diamond Comics website: "A classic Warren character — Vampirella — returned to comics in November as writer Eric Trautmann and artist Wagner Reis unleashed Vampirella #1 for Dynamite Entertainment, giving the publisher the best-selling Non-Premier Comic Book in the month of November. "
(Complete article can be found here.)
So, thank you -- fans and readers --  for giving Vampirella a shot, and I hope you'll stick around for the long haul!