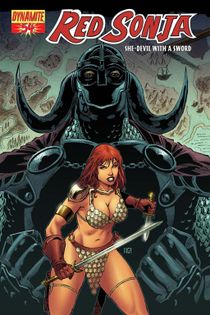 The final issue in my first story arc for Red Sonja hits store shelves tomorrow, bringing the "War Season" story to a close (though the next issue is a stand alone epilogue of sorts). Armies clash, heads roll, and terrible magic is unleashed! 
RED SONJA #54
Written by: Eric Trautmann
Art by: Walter Geovani
Covers by: Walter Geovani, Paul Renaud
For centuries, Persemhia -- a tiny border kingdom of Shem -- has faced down enemies from Koth, Argos, and Stygia. But the arrival of Red Sonja and her band of mercenaries has called down the combined might of all those opponents, under the command of the deadly General Cavvalus. To defeat Cavvalus and his mighty legions, Sonja may be forced to do the unthinkable: surrender.
Dynamite Entertainment   |  32 pgs.  |  Color  |  16+  |  $3.99US
And here's a preview of the issue, including the issue's second cover by Paul Renaud...