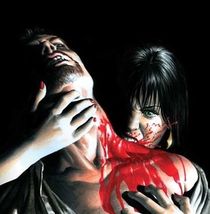 Dynamite Entertainment has released a preview of the forthcoming third issue of my Vampirella series. View the gallery below (I recommend full-screen) or download the files included in this post -- a .zip archive containing the preview .jpg images. 
VAMPIRELLA #3
Written by: Eric Trautmann
Art by: Wagner Reis and Fabiano Neves
Colors by: Inlight Studios
Covers by:  Jelena Kevic-Djurdjevic (25%), Ale Garza (25%), Rodolfo Migliari (25%), Sean Chen (25%)
Vampirella is on the prowl, and her hunt brings her face to face with her nemesis, Vlad Dracula! But before their bloody showdown, Vampirella must unravel the mystery of the Crown of Worms... and solving that puzzle may spell her destruction!
Dynamite Entertainment  |  32 pg.  |  Color  |  Teen+  |  $3.99 US
Vampirella #3 preview
.ZIP archive, containing .jpg preview images of story and covers for Vampirella #3, published by Dynamite Entertainment.
Vampirella 3 Preview.zip
Compressed Archive in ZIP Format
2.6 MB