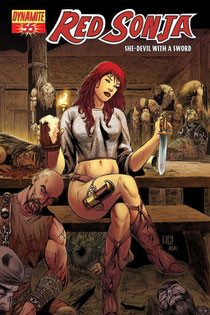 Red Sonja #55 hits store shelves tomorrow, serving as a "done in one" epilogue to the "War Season" arc (issues #51-#55) and a suitable jumping on point for the She-Devil With A Sword's next adventure. 
RED SONJA #55
Written by: Eric Trautmann
Art by: Patrick Berkenkotter
Covers by: Patrick Berkenkotter (50%), Walter Geovani (25%), Michael Avon Oeming (25%)
What do you do when the war is over and your comrades are dead on the battlefield? You find the nearest tavern and drink a toast: "To Absent Friends." Red Sonja considers her next move after the deadly conflicts in Shem (issues #51-#54), but where there's a tavern, there's some drunken fool who starts a fight...
Dynamite Entertainment  |  Color  |  32 pg.  |  Teen+  |  $3.99 US
Preview the covers and sample pages below (best if viewed in full-screen mode):