The latest issues of both Vampirella and Red Sonja hit store shelves this Wednesday, May 4th, and Dynamite Entertainment has released previews of both issues. Enjoy!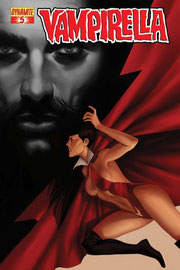 VAMPIRELLA #5
Written by: Eric Trautmann
Art by: Wagner Reis and Fabiano Neves
Covers by: Jelena Kevic-Djurdjevic, Alé Garza, Paul Renaud, Stephen Segovia
Carving a bloody swath through Dracula's forces, facing down the Lord of the Vampires himself, Vampirella is now face-to-face with an ancient, unknowable evil, a terrifying force that plans to make her its eternal queen...
Dynamite Entertainment  |  32 pg. |  Color  |  Teen+  |  $3.99US
VAMPIRELLA #5 PREVIEW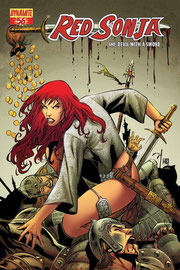 RED SONJA #56
Script by: Eric Trautmann
Art by: Noah Salonga
Covers by: Walter Geovani, Paul Renaud
A new adventure begins! Following the deadly events in Shem, Red Sonja makes her way to Koth -- and a family dispute between rival princes, all keen to seize the throne. And amid the intrigue and the skullduggery, assassins lurk: enemies, loyal to an old adversary that will stop at nothing until the She-Devil with a Sword is dead.
Dynamite Entertainment  |  32pg.  |  Color  |  Teen+  |  $3.99US
RED SONJA #56 PREVIEW