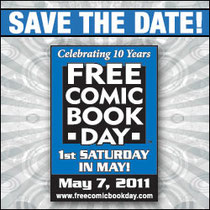 Saturday, May 7th, 2011 is Free Comic Book Day. 
For those that don't already know, FCBD is an international event, in which participating comic stores make available a wide selection of comics for free. 
DC Comics, Marvel Comics, Red 5 Comics, and dozens of other publishers make special issues available specifically for Free Comic Book Day.
Gabi's Olympic Cards & Comics in Lacey, WA, as part of the FCBD celebration, has several guests (myself included). The store is located at 4230 Pacific Avenue, in Lacey, WA. The doors open at 10 a.m. with guests arriving to sign funnybooks around noon. The guests this year are: 
Greg Rucka, creator of Queen & Country, Whiteout, Stumptown, and writer of numerous DC and Marvel titles (including Detective Comics featuring Batwoman, Checkmate, Wonder Woman, and a forthcoming run on The Punisher).
Jen Van Meter, writer / creator of Hopeless Savages from ONI Press, and writer of Black Lightning: Year One for DC, and Black Cat from Marvel. Jen also wrote the recently released (and very excellent) Red Sonja one-shot, Break The Skin, for Dynamite Entertainment. 
Brandon Jerwa, writer of an acclamed run on G.I. Joe for Devil's Due, Battlestar Galactica: Season Zero, Battlestar Galactica: Zarek, and the forthcoming Hack/Slash - Eva crossover (all for Dynamite Entertainment). He was the primary author of the DC miniseries, The Mighty Crusaders, and has contributed to the JSA 80-page Giant series (penning a fantastic "Dr. Fate" story). 
Neal Bailey, writer/creator of the excellent webcomic, Cura Te Ipsum -- a cross-dimensional romp featuring Charlie Everett -- a despondant man on the verge of suicide -- and Charlie Everett -- alternate universe versions of himself, intent on preventing him from killing himself. It's a terrific story, with excellent art. For more information on Cura Te Ipsum, check out the webcomic.  
Visit Olympic Cards & Comics on the web, or on Facebook.