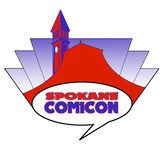 This Saturday, May 21st, 2011, I will once again be making the trek out to Spokane, WA for the Spokane Comicon. It's a terrific convention, and they've always been excellent hosts. I recommend it unreservedly. 
(This show -- or, more specifically, the drive to the show -- is more or less the birthplace of the online horrorfest that occurs on Twitter between myself and Brandon Jerwa.) 
The convention is held on May 21, 2011, at the Spokane Community College (specifically in the "Lair," in building 6). 
Other guests include Brandon Jerwa, Mark Rahner, Dave Johnson, Matthew Southworth, Dan Panosian, and many more. The convention is very well run, pleasant, and has an excellent dealers room. 
For more information, visit them via their website.