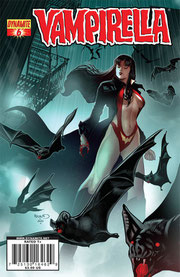 The sixth issue of Vampirella hits store shelves this Wednesday, June 8th. This issue marks the completion of the first story arc, "Crown of Worms," and places Vampi on the path for her next several adventures. 
It's nice to see this storyline wrap-up; it's been a long haul -- and certainly not without some small share of controversy -- but I'm pleased at how the story shaped up. Lots of action, lots of resolution to major plot threats (as well as some unanswered questions to push us into the next arc)... good fun. 
VAMPIRELLA #6
Written by: Eric Trautmann
Art by: Wagner Reis and Fabiano Neves
Covers by: Jelena Kevic-Djurdjevic, Alé Garza, Paul Renaud, & Fabiano Neves.
As an ancient, unknowable evil claws its way into our world, Vampirella must stand alone...or all that lives will suffer and die. With Dracula's minions pursuing their own agendas, and legions of tentacular horrors from beyond reality scrabbling for a foothold on the material plane, only one thing is certain: there will be blood...
Dynamite Entertainment  |  32pg.  |  Color  |  Teen+  |  $3.99US
And here's a preview and cover gallery. (Best if viewed in full-screen mode.)