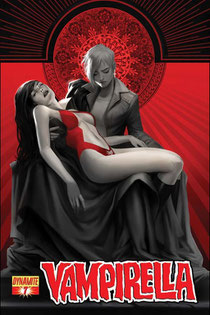 Vampirella #7 — the latest issue of my run on the title for Dynamite Entertainment — hits store shelves this Wednesday, June 22, 2011. 
It's a self-contained issue, an epilogue to the "Crown of Worms" story that wrapped up in issue 6, and I was fortunate to be reteamed with my Red Sonja artist, Walter Geovani. 
VAMPIRELLA #7
Written by: Eric Trautmann
Art by: Walter Geovani
Covers by: Jelena Kevic-Djurdjevic (25%), Walter Geovani (25%), Paul Renaud (25%), Fabiano Neves (25%)
Her name is Sofia, a young woman pulled into the maelstrom of violence and supernatural terror that surrounds Vampirella. She's stood at Vampirella's side during the terrifying battle against Yag-Ath Vermellus — the Lord of Worms — fought the blood-hungry legions of Dracula, and survived the clutches of the vile Le Fanu.
But who is Sofia, and what secrets lurk in her past? 
Written by Eric Trautmann (Red Sonja, Action Comics, The Shield) and illustrated by Walter Geovani (Red Sonja: Blue), this issue marks the transition to a new -- and bloodier -- chapter for Vampirella!

Dynamite Entertainment  |  32 pg.  |  Color  |  Teen+  |  $3.99 US
[Update: Extended preview now available below. Best if viewed in full-screen mode.]