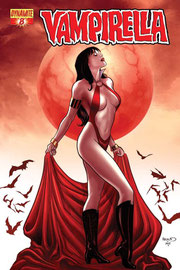 Vampirella #8 hits stores this Wednesday, July 13! 
After the done-in-one previous issue, Vampirella #8 is a good jumping-on point: a new storyline begins, artist Fabiano Neves (who contributed the terrific dream sequence in the first story arc) takes the reins on the art, and a new group of villains is introduced. 
VAMPIRELLA #8
Written by: Eric Trautmann
Art by: Fabiano Neves
Covers by: Jelena Kevic-Djurdjevic (25%), Alé Garza (25%), Fabiano Neves (25%), Paul Renaud (25%)
A lonely stretch of highway. A tiny town in the middle of nowhere. A trio of vicious creatures on a mission of murder and destruction. And all that stands in their way is Vampirella. It's a road-trip through death and horror, as Vampirella, still dealing with the aftermath of her first adventure, faces a threat that may finally be her match.
Dynamite Entertainment  |  32pg.  |  Color  |  Teen+  |  $3.99 US
Story preview and cover gallery (best if viewed in full-screen).