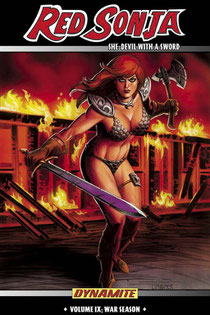 The first (and clearly not the last) trade paperback collecting my Red Sonja work hits store shelves next week! 
This was my first attempt at sword-and-sorcery/fantasy material for publication, and I was quite surprised at just how much I enjoy writing the adventures of a certain red-headed mercenary. 
As an added bonus, I got to work with two extraordinary artists -- Walter Geovani (who also did some pinch-hitting on Vampirella #7) and Patrick Berkenkotter -- who brought a lot of style to the work. Walter has a lovely, fluid line and a terrific sense of character, and Patrick's pencils have a terrific, muscular Ernie Chan-esque feel to them. (As an aside: Patrick also penciled the upcoming oversized 60th issue of Red Sonja, and just blew me away.)
So, if you're looking for a good jump-on point to start reading Red Sonja, this is probably it. 
RED SONJA VOLUME 9 TP: WAR SEASON
Written by; Eric Trautmann
Art by: Walter Geovani and Patrick Berkenkotter
Cover by: Joseph Michael Linsner
As Argos burns with revolution, Red Sonja captains a band of mercenaries on  a last-ditch, desperate mission across the border into Shem.
But that mission is more than it seems, as Sonja leads her allies into a quest for a deadly secret hidden within the walls of the city-state, Persemhia.
Worse: others seek this mysterious prize as well, as the armies of Koth and Argos mass to crush Red Sonja's ragtag band. It will take more than skill with a blade for any to survive this deadly season of war...

Collects issues 51 through 55 of the Red Sonja ongoing series written by Eric Trautmann and illustrated by Walter Geovani and Patrick Berkenkotter.
Features a complete cover gallery featuring art by Joseph Michael Linsner, Paul Renaud, Michael Avon Oeming, Walter Geovani & More!


Dynamite Entertainment | 128 pgs | Teen+ | $16.99 US  | ISBN 1-60690-112-5