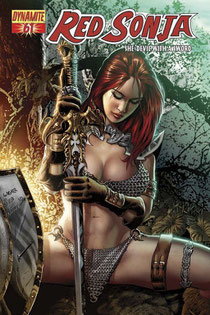 I realize I haven't updated over here in almost a year -- lamenting my 39th birthday -- as I rapidly approach my 40th. 
(In happier news, for my 40th birthday, my amazing and awesome wife has arranged a killer trip to Las Vegas, and my first issue of Flash Gordon should be hitting stands at about the same time.)
Yesterday, I completed writing chores on my 14th consecutive issue of Red Sonja, making this my longest run on a title to date. 
It's been an interesting run, which began as the editor asking me for four issues as fast as I could crank them out. The result, "War Season," ran from issues 51-54, and by the third installment, it was clear that I would be continuing on the title for a while. Issue 55 became an epilogue, and is in many ways the focal point for my entire run. 
The upcoming run, "Echoes of War," is a sequel of sorts to "War Season," and I'm once again reteamed with "War Season" penciler Walter Geovani. 
I'm pretty excited about it. "Echoes" ties up a lot of loose ends, and a theme has emerged about the consequences of drawing the sword, putting a capstone on the whole shebang and leaving me poised to push the character in a new direction (though what direction that is, I'm still not sure). 
Coinciding roughly with my 40th birthday has made it feel (to me, at least; your mileage may vary) like I've accomplished something. The stories are very much me, the kind of book I like to read, and am quite proud to have written. Hopefully you've enjoyed them, too. 
In the next few weeks, I hope to post an annotated "scriptbook" of "War Season" and its epilogue, with subsequent arcs being included as they make their way to trade paperback (pending approval of the publisher and license holder, naturally).