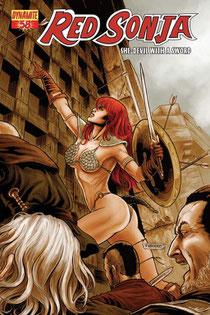 The next issue of the monthly Red Sonja series, published by Dynamite Entertainment, hits store shelves this coming Wednesday (November 9th). 
RED SONJA #58
Written by: Eric Trautmann
Art by: Noah Salonga
Covers by: Walter Geovani, Fabiano Neves
Red Sonja's adventure in Khorshemish—the opulant capital of Koth—continues. Political and family intrigues have placed the She-Devil With A Sword between rival noble families, all intent on seizing the throne of Koth.
On one side, the disgraced family of her slain enemy—Cav-valus of Koth—plots Sonja's destruction. On the other, Strabonus, Prince of the realm, and quite possibly insane. Amidst assassins, alchemists, and royal intrigue, Sonja discovers that not all wars are fought with swords.
Dynamite Entertainment  |  Color  |  32 pg.  |  Teen+  |  $3.99US
Here's a preview of Red Sonja #58. (Best if viewed in "full-screen" mode.)