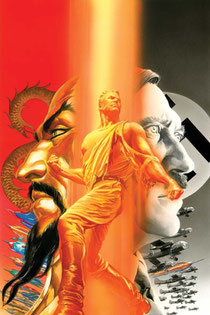 Brian Truitt from USA Today recently interviewed me about tomorrow's debut issue of my new Flash Gordon serial for Dynamite Entertainment. The article also includes an extended preview and cover gallery. 
The interview is here, and the preview gallery can be found here. 
I'm very pleased and proud of this project, and the fine work everyone has contributed; please pass around the preview and interview links, with my profound thanks.
FLASH GORDON: ZEITGEIST #1
Written by: Eric Trautmann (from story concepts by Alex Ross and Alex Raymond)
Illustrated by: Daniel Indro
Covers by: Alex Ross, Francesco Francavilla, Paul Renaud, Wagner Reis
The year is 1934, a time of two-fisted swashbuckling, of fearsome threats and wild adventure-and of ever-growing threats on the horizon.
Three valiant humans -- Flash Gordon, Dale Arden and Dr. Hans Zarkov -- are plucked from the Earth, traveling to the distant planet Mongo. Their exploits are legendary, battling the machinations and terror schemes of the dreaded emperor Ming, the All-Seeing Ruler of Mongo. But they did not fight alone...
Dynamite Entertainment  |  32 pg.  |  Color  |  Teen+  |  $1.00 US