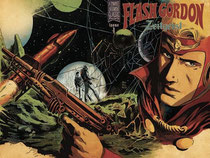 ...around the internets.
Response to Flash Gordon: Zeitgeist has been very positive, for which I am profoundly greatful. It's a true labor of love, and it's a genuine pleasure seeing the response. 
Here's a quick'n'dirty round-up of reviews of Flash Gordon: Zeitgeist #1 [Updated]. 
In the ramp up to the series, I also did a bunch of interviews and podcasts, including my friends William and Dane at Between the Panels, Joe Dilworth at Pop Culture Zoo, Steve Sunu at Comic Book Resources, "Decapitated" Dan Royer, and Greg Hyatt for the Radio Free Nerdery podcast.