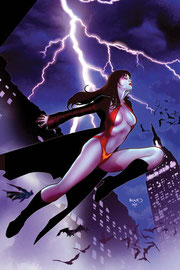 Vampirella #12 hits shelves this Wednesday, December 21...just in time for Christmas. 
VAMPIRELLA #12
Written by: Eric Trautmann
Art by: José Malaga
Covers by: Alex Ross, Paul Renaud, Alé Garza, Wagner Reis
At the not-so-polite request of her mysterious benefactors, Vampirella—and her human ally, Sofia Murray—step into a larger (and deadlier) world. The hunt for supernatural threats has brought them from the U.S., to Europe and now into Russia, where a forgotten burial ground, a deconsecrated church, and a cunning, demonic horror await them...
Dynamite Entertainment  |  Color  |  32pg.  |  Teen+  |  $3.99 US
Here's a preview of the issue (best if viewed in full-screen mode):