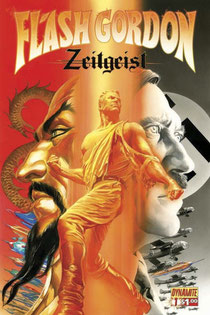 USAToday.com's "Best Comics" of the year list hit yesterday, and I was shocked -- in a year in which titles like Atomic Robo, Criminal, Daredevil, Batman, Punisher, Captain America and a bunch of others are rolling out astonishing creative teams and ridiculously compelling stories -- to see that Flash Gordon: Zeitgeist #1 made the cut (tied with the wonderful IDW Rocketeer Adventures, one of my favorite characters ever). 
Best use of retro characters: IDW's Rocketeer Adventures and Dynamite Entertainment's Flash Gordon: Zeitgeist. The Rocketeer title brought a slew of talented writers and artists together for their takes on the late Dave Stevens' jetpacked hero and his curvy girlfriend, and writer Eric Trautmann's Zeitgeist is a boon for those who grew up with old Flash Gordon serials or the 1980 cult movie. (Crank up the Queen soundtrack when reading the comic. Again, you'll thank me later.)
Thanks to Brian Truitt at USAToday.com—it's much appreciated. 
Here's the complete list; please do check it out (and if you've not read the titles on this list, may I suggest you rectify that? There's some really terrific books represented there).