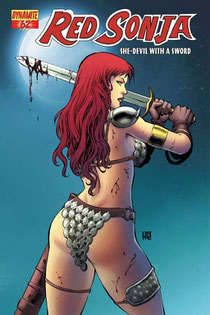 The latest issue of my run on Dynamite Entertainment's Red Sonja hits stores this week. 
RED SONJA #62
Written by: Eric Trautmann
Art by: Walter Geovani
Covers by: Walter Geovani, Wagner Reis
Red Sonja's travels lead her to Kheshatta--the fabled City of Magicians in the dust-choked heart of Stygia--searching for a means to locate and destroy an ancient weapon that carries a terrible price. But there are enemies a-plenty in her path, all intent on ending Sonja's saga in a storm of sand and blood. 
Dynamite Entertainment  |  Color  |  32 pg.  |  Teen +  |  $3.99 US
Here's a preview of Red Sonja #62 (best if viewed in full-screen mode):
In related news, a Red Sonja one-shot -- titled Raven -- lands tomorrow as well. Written by my friend Marc Mason, Red Sonja: Raven is well worth your time. 
For a peek at Raven, check out the preview on Dynamite's website, and for a look behind-the-scenes, check out Marc's blog.