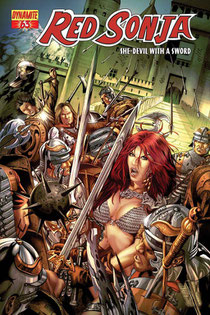 The middle chapter of my current Red Sonja arc hits store shelves this Wednesday. This series, subtitled "Echoes of War," ties together the preceding storylines that began all the way back in issue #51. 
RED SONJA #63
Written by: Eric Trautmann
Art by: Walter Geovani
Covers by: Walter Geovani, Wagner Reis
There are countless dark secrets buried beneath the time-lost sands of Stygia, a land of sinister magicks and powerful gods...and it will take all of Red Sonja's considerable skill and daring to avoid being buried alongside them. 
The She-Devil With A Sword has faced numerous foes and bested them all, but now she faces her toughest adversary yet: the consequences of her past actions.
Traveling to a hidden fortress deep in the Stygian desert, she faces a cabal of zealots and the kin of a fallen enemy. Her goal: a long-hidden weapon of terrible destructive power, which may also be the key to Red Sonja's redemption...
Dynamite Entertainment  |  Color  |  32pg.  |  Teen+  |  $3.99US
Enjoy a preview of the issue (best if viewed in full-screen mode):