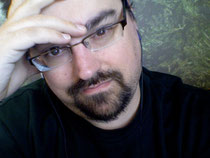 I'll probably start doing this more regularly, but it occured to me that a quick summation of who I am and what this is all about is probably a good idea. 
WHO I AM
My name is Eric Trautmann, and I'm a freelancer writer, editor, and graphic designer. (I'm not the real estate guy from New Jersey, or the doctor in California, and I have to guess that, at this point, both of those guys must hate me.)
Currently, I write comic books (including Flash Gordon: Zeitgeist, Vampirella, and Red Sonja for independent publisher Dynamite Entertainment). I've also written for DC Comics, DC/Vertigo, Prima Games, and Image Comics. 
I've written for videogames, dice-and-paper roleplaying games, mainstream publishers like Random House/Del Rey, among other things. I was a columnist for MSN.com's "Parallel Universes" website for the better part of a year. 
I'm a graphic designer, and have done everything from print advertising, book design, logo and branding design, to album covers and digital comics lettering. 
WHERE I'M AT
I can be found online here, obviously, as well as...
I'm also on Twitter, but -- unlike the links provided above -- Twitter is where I'm curse-y and sweary and generally a monster. If that's not your cup of tea (and honestly, why would it be?) you're probably better off sticking with Facebook. 
I can be reached via e-mail at estrautmann@gmail.com. Please note this is not my primary mail address, and is sort of a gatekeeper/catchall, so responses are not instant.