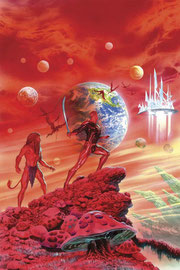 I have two new issues on comic store shelves this week: Vampirella #14 (the midpoint of the longest and nastiest story I've written for the blood-drinkin', monster-shootin' heroine) and Flash Gordon: Zeitgeist #3. 
In addition, if you are in the Lacey/Olympia area, then you'll be pleased to know that the shipment of last week's Red Sonja #63 — which was not delivered on time — should be in, so technically, I'll have three books on the stands tomorrow. 
I can feel my signing hand cramping already. 
Here are some previews of tomorrow's new Flash Gordon and Vampirella issues...
VAMPIRELLA #14
Written by: Eric Trautmann
Art by: Patrick Berkenkotter
Covers by: Alé Garza, Paul Renaud, Ibraim Roberson, Fabiano Neves
The secret of Vampirella's mysterious benefactors deepens, as she struggles with a legendary creature of mythology in a dead city. Vampirella's quest to locate a long lost relic in the ghost city of Ani, a relic that must be destroyed before unleashing a century-old horror on an unsuspecting world. Old scores must be settled, conspiracies unearthed, and rest assured: there will be blood in the dust.
Dynamite Entertainment  |  Color  |  32pg  |  Teen+  |  $3.99US
FLASH GORDON: ZEITGEIST #3
Written by: Eric Trautmann (from concepts by Alex Ross & Alex Raymond)
Art by: Daniel Indro
Covers by: Alex Ross, Paul Renaud, Francesco Francavilla, 
Flash Gordon -- on the run from Ming's pursuit ships -- finds himself cut off and alone, facing down the deadly hazards of Mongo's untamed wilderness, and the primal rage of Prince Thun of the Lion Men. Alien threats abound, which will test Gordon's skills to their outer limits. Meanwhile, on an Earth still menaced by the threat of invasion from Mongo, three alien rebels wage a secret battle against Ming the Merciless. Their target: a shipment of powerful extraterrestrial weapons, delivered into the hands of the Third Reich!
Dynamite Entertainment's epic space opera continues in Flash Gordon: Zeitgeist's thrilling third chapter, "Monsters of Mongo."
Dynamite Entertainment  |  Color  |  32pg  |  Teen  |  $3.99US