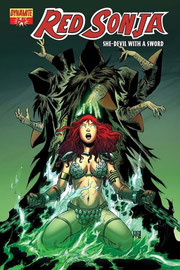 The She-Devil With A Sword returns to comic shelves this Wednesday, Feb. 22, with issue #64 of Dynamite Entertainment's Red Sonja series. This issue marks the midpoint of the current story arc, one which reaches back to issue #51 and my first work on the title. I promise Stygian sorcerers, strange magic, quick banter, and the occasional swordplay.
RED SONJA #64
Written by: Eric Trautmann
Art by: Walter Geovani
Covers by: Walter Geovani, Wagner Reis
Red Sonja has traveled from pastoral Shem to strife-torn Koth and now, into the dark heart of Stygia itself. Her quest: a lost weapon of terrifying power--and perhaps some measure of atonement for sins past.
But the sinister schemes of the Pharoah's witch, Azenathi, and the thirst for vengeance of an old enemy, may only bring Sonja pain, blood, and death... 
Dynamite Entertainment  |  32 pg.  |  Color  |  Teen+  |  $3.99 US
COVER GALLERY AND PREVIEW: