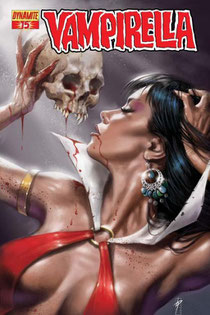 The next chapter in my current Vampirella arc hits store shelves this Wednesday, March 21st, 2012.
This is the longest arc I've done on the book to date, and this issue marks the start of Very Bad Things™. 
VAMPIRELLA #15
Written by: Eric Trautmann
Art by: José Malaga
Covers by: Paul Renaud, Lucio Parillo, Alé Garza, Fabiano Neves
In the ruined depths of a forgotten, dead city, Vampirella and her human ally, face down ancient spirits, a knife-wielding fanatic with unimaginable eldritch power...and treachery from within their own ranks. 
There's more than a murderer on the loose: the doomsday plan of an old enemy is on the eve of success. Secrets are revealed, confidences betrayed, and a long-dormant conspiracy bears sinister fruit...
Dynamite Entertainment  |  32 pg.  |  Color  |  Teen+  |  $3.99US
Enjoy this extended preview (originally featured on ComicVine). Best if viewed in full-screen mode: