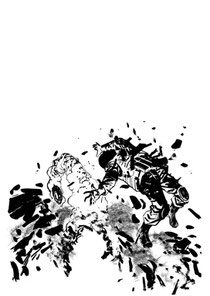 On April 18th, the original graphic novel Shooters hits store shelves. I wrote the book with Brandon Jerwa, and it was illustrated by Eisner-winning artist Steve Lieber (of Whiteout fame). 
Today, we launched a new website devoted to the book: www.steelriversecurity.com (named after the fictional private military company portrayed in Shooters). We can also be found on Twitter: @Shooters_OGN.
Every Monday, Wednesday, and Friday, there will be new content updates: preview artwork, essays, desktop wallpapers, script excerpts, and more. 
The book was a real labor of love, so I hope you'll visit, and return, to Steel River often.