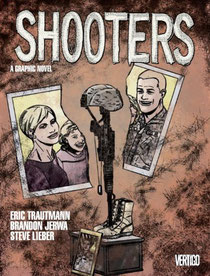 For those who don't know, I co-wrote a contemporary military drama called Shooters, a graphic novel due out in just a couple weeks. (Here's a link to more information on Shooters.)
To support the launch of the book, which is very important to me, we've created an "Unofficial Official" fan site, named after a fictional private military company in Shooters. 
Every Monday, Wednesday, and Friday will feature new content: behind-the-scenes info, sketches, art, desktop wallpapers, and so on.
Today's update is a profile of Shooters protagonist, Terry Glass, and it contains never-before-seen design art from the book's illustrator, the insanely talented Steve Lieber.