It appears we're on the verge of another "Trautpocalypse"—several projects I wrote or co-wrote hit store shelves this Wednesday.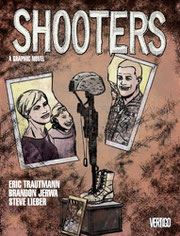 First and foremost, Shooters finally arrives! It's been a long, painful journey to get here, but I'm pleased at the final outcome (and about the advance praise the book has already garnered). 
SHOOTERS
Written by: Eric Trautmann and Brandon Jerwa
Art and Cover by: Steve Lieber
Shooters is an original graphic novel, published by DC Comics' imprint, Vertigo (home of such acclaimed graphic novels as Preacher, Transmetropolitan, Sandman, The Road to Perdition and many others). 
The book follows the career of Terry Glass — a Chief Warrant Officer in the United States Army, and a well-trained Special Forces operator — during the early days of America's post-9/11 military actions in Iraq. 
While in Iraq, Glass' faces the creeping boredom of the infantryman, the adrenaline-charged terror of direct confrontation with the enemy, and finally, a shattering accident that leaves him both physically and emotionally scarred. 
And that is merely the starting point of Glass' journey. 
There's more than IEDs, enemy insurgents, and bullets to face. Recovering from terrible injuries, Glass faces his own private demons, the ruins of his marriage, and the moral uncertainties of life as a private military contractor.
Vertigo  |  144pg.  |  B&W  |  Hardcover  | Mature Readers  |  $22.9US
For more information Shooters, visit the "Unofficial" fan site: www.steelriversecurity.com
---
VAMPIRELLA #16
Written by: Eric Trautmann
Art by: Patrick Berkenkotter
Covers by: Paul Renaud, Adrian Batista, Fabiano Neves, Lucio Parillo
In an ancient, abandoned city, Vampirella faces betrayal by an ally, a terrible loss, and the return of an old foe. Don't miss the darkest chapter yet in Dynamite Entertainment's acclaimed horror-adventure series.
Dynamite Entertainment  |  32 pg.  |  Color  |  Teen+  |  $3.99US
Here's a preview (best if viewed in "full screen" mode):
---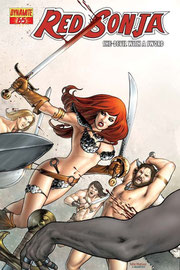 RED SONJA #65
Written by: Eric Trautmann
Art by: Walter Geovani
Covers by: Walter Geovani, John Watson
Blood flows on the Stygian sands as Red Sonja—pursued by a family of assassins—closes in on her prize: an ancient weapon of incalculable destructive power.
But an implacable foe has placed a dire threat in Sonja's path, someone who knows the She Devil With A Sword's every weakness ...
Dynamite Entertainment  |  32pg.  |  Color  | Teen+  |  $3.99US
Here's a preview (again, best if viewed as "full screen")...