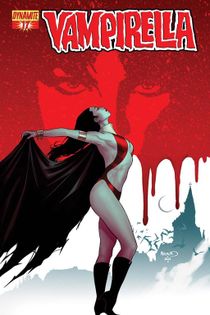 Only three more issues to go before I conclude my run on Dynamite Entertainment's Vampirella monthly series! And it only gets weirder from here. 
VAMPIRELLA #17
Written by: Eric Trautmann
Art by: José Malaga
Covers by: Paul Renaud, Fabiano Neves, Lucio Parillo, Alé Garza
Vampirella's hunt for a supernatural serial killer amid the ruins of a ghost city has lead to stark betrayal, a terrible loss, and the return of an old foe: the sinister Von Kreist. A team of monster-hunters -- the Vatican's own covert action group, "Cestus Dei" -- has arrived to control the scene through any means necessary. But will they see Vampirella as friend...or foe?
Dynamite Entertainment  |  Color  |  32pg.  |  Teen+  |  $3.99US
COVER GALLERY & PREVIEW: