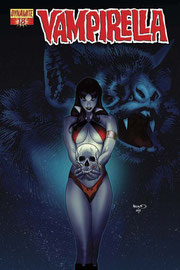 Vampirella is back, as we move closer to the conclusion of my run on Dynamite's acclaimed horror/adventure series! 
VAMPIRELLA #18
Written by: Eric Trautmann
Art by: José Malaga
Covers by: Alé Garza, Fabiano Neves, Lucio Parillo, Paul Renaud
Vampirella -- still reeling from the horrible fate of her ally, Sofia, and the rebirth of her old enemy, Von Kriest -- charges back into battle as more old foes resurface, some offering a truce. But is the enemy of her enemy really a friend?
Dynamite Entertainment  |  32pg. |  Color  |  Teen+  |  $3.99US
Cover Gallery & Preview