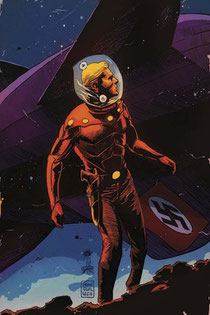 Flash Gordon returns this Wednesday, June 13th! 
FLASH GORDON: ZEITGEIST #5
Written by: Eric Trautmann (from story and concepts by Alex Raymond and Alex Ross)
Art by: Daniel Indro
Covers by: Alex Ross, Francesco Francavilla, Paul Renaud
The rebellious Prince Barin has Flash Gordon in his clutches, and that may spell death... unless the intrepid Earthman defeats his own ally, Prince Thun of the Lion Men of Mongo. Insurrection against Ming's iron rule of Mongo is brewing, with shifting alliances and deadly intrigues at every turn. But the clock is ticking, as the merciless emperor has plans of his own: his royal wedding to Dale Arden. On Earth, three fugitives from Mongo have their sights set on their objective, with the Third Reich squarely in their crosshairs...
Dynamite Entertainment  |  Color  |  32pg  |  Teen+  | $3.99US
Cover Gallery and Extended Preview: