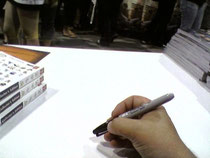 I have two signings fast approaching: 
This Saturday, June 16th, starting at 10am, I -- along with my friend and frequent collaborator, Brandon Jerwa -- will be signing at the base exchange at Joint Base Lewis-McChord in Washinton State. The signing is for Shooters as a thank you to active duty military personnel, but obviously, we'll be happy to sign anything else we worked on, too. 
The following Saturday, June 23rd, the Shooters creative team — me, Brandon, and illustrator Steve Lieber — will be appearaning at I Like Comics in Vancouver, WA, from 1pm–5pm. 
I Like Comics is located at:
2101 E. 4th Plain Street
Vancouver, WA
ph. 360.852.8890
I Like Comics' Facebook page can be found here.