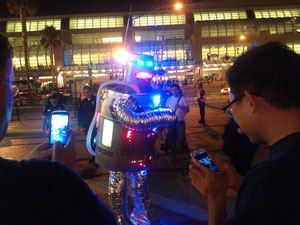 I've finally returned from San Diego, CA., where I attended Comic Con International. As always, it was overwhelming, colorful, overwhelming, entertaining, and overwhelming. 
Typically, I fly out a couple days early to spend time with my friend, Jeremy, and leave a couple days after the con to avoid overcrowded flights. Tends to work out great, but also means I haven't seen the inside of my own home in over a week. 
Some highlights of the show this year: I finally got to meet Ande Parks, a terrific writer (his Union Station is a must-read true-crime graphic novel) whom I've bantered with several times via Twitter, saw a dancing robot, met and spoke to Dirk Benedict at a local burger joint, sat in a replica of Kirk's command chair from Star Trek, got very close to a display of various movie and TV Batmobiles, met artist Giovanni Timpano, drank several mojitos, saw dolphins frolicking in the surf while my wife and I swam in the Pacific, and managed to acquire for myself one of the spiffy Comic Con exclusive SHIELD Helicarriers.  
Here's some photo highlights of cool swag and convention niftyness.