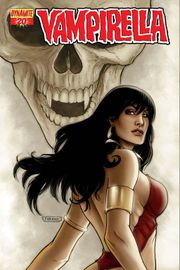 My final issue of Vampirella hits store shelves today, making the title the second-longest run I've had on a book (second only to Red Sonja). 
I was originally supposed to write the first six issues, with an option to extend to twelve; nineteen issues later, I figure I must've been doing something right. 
Next month, the book will transition over to new series writer Brandon Jerwa (and, I believe, artist Hubert Khan Michael, who did a fill-in art job during the "Murder of Crows" storyline), so the book shouldn't miss a beat. 
So long, Vampirella. It's been an honor. 
VAMPIRELLA #20
Written by: Eric Trautmann
Art by: José Malaga
Covers by: Fabiano Neves, Paul Renaud, Lucio Parillo, Alé Garza
It's a bloody showdown between Dracula, and the Vatican's paramilitary wing, Cestus Dei. Vlad has new tricks up his sleeves, alliances with old gods that make Order and Chaos tremble, and his plans of unholy conquest are on the verge of success. Of course, Vampirella might have something to say about that...
Dynamite Entertainment  |  32pg.  |  Color  |  Teen+  |  $3.99US
Cover Gallery & Preview