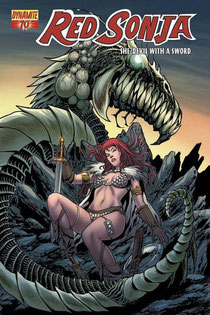 The final issue in the "Swords Against Khitai" arc, Red Sonja #71, hit today. It's an epilogue of sorts, though there's certainly some key action here, but I must confess -- and I know I'm setting myself up to be kicked in the teeth for it, but what can you do? -- this may be my favorite issue of the entire run. 
There's a certain shade of purple necessary to capture a specific Hyborian "feel"--a blend of Robert E. Howard and Roy Thomas, and I've spent 24 issues and change trying to nail that tone, and I think I succeeded here. 
The issue hearkens more to the darker, somber Conan-esque tales, less a story about freewheeling adventure and more about the payment of debts in blood. I hope you enjoy it, and if you disagree with my feelings about the prose, I submit that Edgar Salazar's artwork more than makes up for it. 
RED SONJA #71
Written by: Eric Trautmann
Art by: Edgar Salazar
Cover by: Walter Geovani
In the iron mountains of Khitai, Sonja stalks the last of the Three Brothers -- Lau Xifong. Pitted against a supernatural entity of terrifying power, Red Sonja learns that the line between predator and prey is as thin as a blade-edge. 
Dynamite Entertainment  |  Color  |  32pg.  |  Teen+  |  $3.99US
Cover gallery and preview: