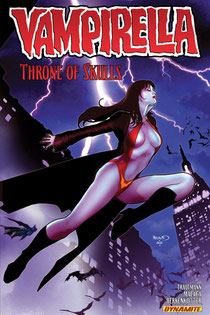 Dynamite Entertainment is releasing the third volume collecting the last bit of my Vampirella run this week. Vampirella Vol. 3: Throne of Skulls includes issues 12-20, concluding my tenure on the book and leading into Brandon Jerwa's excellent "Inquisition" storyline. 
VAMPIRELLA VOL. 3: THRONE OF SKULLS
Written by: Eric Trautmann
Art by: José Malaga, Patrick Berkenkotter
Cover by: Paul Renaud
Welcome to the end of days! A mysterious hijacking — by an undetectable force which leaves only death in its wake — lures Vampirella to Russia, and deeper into a deadly conspiracy where nothing is what it seems.
At the request of Vampirella's allies — the Vatican's paranormal covert strike force, Cestus Dei — the blood-drinking scourge of the supernatural travels to Russia, on the hunt for a terrifying killer with a gift for murder. But there's more at play than a simple search-and-destroy mission.
Complicating matters is the return of the King of the Vampires, Dracula — more powerful than ever before, and determined to consecrate an unholy pact with ancient, unknowable forces that even the lords of Chaos and Order wisely fear. War is on the horizon, and only one who has worn the Crown of Worms can sit upon a Throne of Skulls. Old foes are reborn, alliances are broken, and nothing in Vampirella's world will ever be the same!
Dynamite Entertainment  |  256 pages  |  Color  |  Teen+  |  $29.99US
Cover Gallery and Preview: