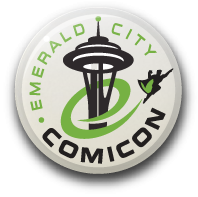 I will be attending the Emerald City Comicon in Seattle WA, from Friday, March 1 to Sunday March 3. 
The convention is located in the Washington State Convention Center, and is one of the best shows I attend. 
For more information, follow this link to the show's website. 
My panel and signing schedule (subject to change) is: 
Friday, March 1
4:00pm–6:00pm: Signing @ Dynamite Entertainment (Booth #1802)
Saturday, March 2
10:00am–12:00pm: Signing @ Dynamite Entertainment (Booth #1802)
6:10pm–7:05pm: Panel (Hall B, 604–610) "Dynamite is Ready To Explode!"
Join the Dynamite gang and their star-studded line-up of creative talent for an hour of explosive power!  
Mark Waid takes charge with Green Hornet!  Matt Wagner knows what evil lurks at the heart of The Shadow! Chris Roberson unmasks Masks!  Get the latest news right from the source, as the guys give a dynamic glimpse behind-the-scenes with Ron Marz'sProphecy, Brandon Jerwa's Vampirella, and Eric Trautman's Red Sonja!  Plus Francesco Francavilla, Jim Zub, and more!
Sunday, March 3
11:00am–1:00pm: Signing @ Dynamite Entertainment (Booth #1802)
2:30pm–3:25pm: Panel (Hall A, 611-614) "Decoding Comicon With Buddy Levy"
So just what is the big deal about comic conventions anyway? And why do they continue to be a worldwidephenomenon after nearly 50 years? Join Buddy Levy, co-star of The History Channel's Brad Meltzer's Decoded, as he and a panel of convention experts take an insightful and entertaining look at what makes these shows resonate with both geek and mainstream audiences.
Buddy's guest panelists include Kandrix Foong (Convention Director, Calgary Expo), Eric Trautmann (Pro Comic Writer), Phil Hester (Pro Writer/Artist), Mark Long (Pro Video Game Developer) and Bob Schreck (E-i-C, Legendary Comics) and Mike Robles (Community Manager, Wizards of the Coast)!