I'm pleased to announce my next project, a creator-owned, digital comic series to be published by Monkeybrain (via ComiXology). 
Frost -- a collaboration with my friend, Brandon Jerwa, and illustrator Giovanni Timpano -- is a military/espionage series, with roots sunk deep into the tradition of trashy men's adventure fiction novels. The first series of (we hope) several, "Rogue State," debuts with a free "#0" issue. 
Here are the details: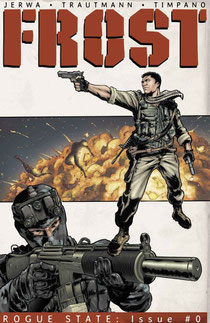 FROST: ROGUE STATE #0
Created by Brandon Jerwa & Eric Trautmann (writers) and Giovanni Timpano (illustrator)
Colors by Andrea Celestini
Letters by Simon Bowland
Meet FROST. His name is spoken in whispers from deep within the American intelligence community--a cypher, a walking secret, and the ultimate weapon against global terror. In the far-flung fields of battle against America's enemies--a world where those who would protect us from harm must often trade in violence, deception and betrayal--there are those who strike a deadly balance between order and chaos. In this struggle, information and secrecy are as lethal as the gun, and where the ultimate practitioners of the military arts engage the enemy in the shadows...
Issue 0 is a free six-page prologue to "Rogue State," but also includes six additional pages of background material and teaser art. Each subsequent issue will be a minimum of 16 pages of story, plus 3–10 pages of "backmatter," all for a mere $.99!
To grab a copy of the free preview issue, visit ComiXology here. 
And if you'd be so kind, "like" us on Facebook? Thanks.