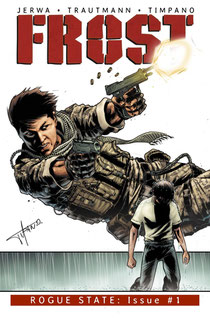 The first issue of Frost: Rogue State is available for sale tomorrow via Monkeybrain Comics & ComiXology (though you can pre-order now, which I would sincerely appreciate). Frost is currently only available in digital form, and can be acquired for a mere ninety-nine Yankee cents. 
FROST: ROGUE STATE #1
Written by: Brandon Jerwa & Eric Trautmann
Art by: Giovanni Timpano
Colors by: Andrea Celestini
Lettered by: Simon Bowland
There are lies. There are secrets. And then, there's FROST. A rescue operation to recover an American asset from the heart of an Afghani warlord's stronghold turns into a deadly struggle for survival...and there's nowhere else Frost would rather be...
Monkeybrain Comics  |  19 pages |  Color  |  15+  |  Military Action/Thriller  |  $.99US  
To pre-order or purchase Frost: Rogue State, visit ComiXology here.