First, apologies for the poor output here of late; it's been a busy several weeks, but things (knock wood) seem to be back on track.
Except, of course, now I'm battling Death Lung again. Hack wheeze kaff die.
Because my lungs were trying to murder me all week, I neglected to post updates of new stuff that came out this week. Better late than never, I suppose. 
Dun dun dun dun dun dun dun dun FLASH! AH-AAAAAH!
Flash Gordon: Zeitgeist, the ten-issue series I wrote for Dynamite recently concluded, and is now available in a single, oversize volume. Superscience, space heroes, evil megalonmaniacs, and Hitler punchin'. Plus, lots of Alex Ross art, which is definitely rather unshabby. 
The book clocks in at a healthy 200+ pages, for about $30, featuring the art of talented illustrators Daniel Indro (who handled the bulk of the series) and Ron Adrian (who finished out the book, and also illustrated Scott Beatty's excellent companion volume, Merciless: The Rise of Ming).
For the full skinny, plus preview art, pop over to my Collected Editions page.
An ending written in blood and fire.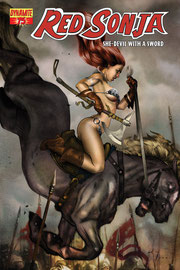 Also out this week is my final issue of Red Sonja. It really doesn't feel like it's been that long, but I've written twenty-five chapters of Sonja's story, over two years' worth of comics. 
I'm as shocked as anyone, but the experience writing Red Sonja is possibly the most fun I've had in comics. I grew up adoring Robert E. Howard's "Hyboria" setting, so this has been a longtime dream come true. 
If you've read my complete run on the title, I hope you'll find this issue a pretty thorough resolution to her arc. It's got a fair bit to say about loyalty and camaraderie. 
And yeah, I'm sure going to miss her.
RED SONJA #75
Written by: Eric Trautmann
Art by: Marcio Abreu
Covers by: Walter Geovani, Erik Jones, Mel Rubi.
On the crimson-stained steppes of Hyrkania, Red Sonja faces off against a rogue Turanian army, commanded by Omaju—royal torturer to Yezdigerd, Sultan of Turan. Bent on crushing her homeland, Omaju pursues the She-Devil with a Sword... but who is truly the prey in this hunt? Old scores are settled, alliances are broken, and rest assured, with the She-Devil With A Sword entering the fray, blood will surely flow... 
Dynamite Entertainment  |  32pg.  |  Color  |  Teen+  |  $3.99US
But wait, there's more...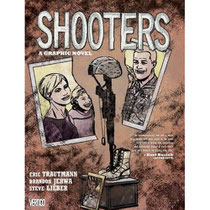 Shooters, the original graphic novel I wrote with Brandon Jerwa, illustrated by Steve Lieber, is now available via the Kindle platform. And it's at a reasonable price (I'm currently seeing it at $9.99US). 
Shooters is a contemporary military drama about the Iraq war, with emphasis on the human side of the soldier's experience, and the cost of battle on the soldier's psyche. Shooters recently won a PRISM award for it's authentic portrayal of PTSD and other related issues, and is easily the work I am most proud of. 
Shooters was reported to have a softcover printing this month, but as it's not shown up in the solicits anywhere I can find, I fear it may be lost in the shuffle. On my list of things to do is track down the status of that printing. 
For more info on Shooters, you can click over to my Vertigo work page, or the book's "Unofficial Official" fansite, Steel River Security. 
...and MORE...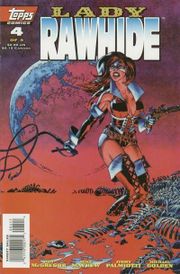 If you remember the cover image displayed off to the right, then, like me...
...yeah, you're probably a fossil, too. 
Lady Rawhide was a spinoff of Topps' Zorro line back in the days of chromium covers, trading card inserts and Bad Girls. Driven to don a mask and seek vengeance (after her brother is mistaken for Zorro and generally messed with by the authorities), she made a great foil to Zorro and a strong female lead in her own right. 
It was a fun book—reveling in a more "good-girl" / classic pin-up style (courtesy of the excellent work of writer Don McGregor and illustrators like Mike Mayhew, Adam Hughes, Esteban Maroto, and others). I enjoyed it immensely back then.
So I'm pleased to mention that I'm writing a new five-issue miniseries featuring Lady Rawhide for my pals at Dynamite Entertainment. 
I'll have more details soon, in a separate post, because this one is groaning under it's own weight. But some details can be found over at Comic Book Resources.