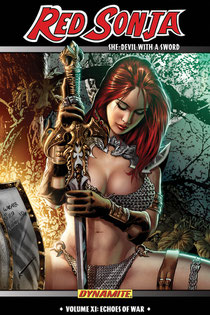 It came as a pleasant shock today when I saw the new trade paperback collection of my Red Sonja run (this one containing the last of my collaboration with artist Walter Geovani, who also drew my first Red Sonja arc). 
I'm unreasonably fond of this one, because -- due to the unusually long run I had on the book -- I got to do some things that I've never had the opportunity to do before, namely: reintroduce characters who were originally portrayed as fairly minor, secondary characters and build on that, showing the consequences of some of Sonja's actions. 
The title of the arc, "Echoes of War" is a callback to my first storyline, "War Season." Sonja's earlier adventure in "Season" sowed some particularly nasty consequences, and allowed me to play with some really fun sword & sworcery tropes. (I'm particularly fond of the castle made of glass, hidden beneath the sands of Stygia.) 
Anyway, here are the details:
RED SONJA VOL. XI: ECHOES OF WAR
Written by: Eric Trautmann
Art by: Walter Geovani
Cover by: Wagner Reis 
In the mysterious land of Stygia, the warrior Red Sonja quests for the cursed Horn of Nergal—not for glory or profit, but by the command of the scheming witch Azenathi. To save her friends from certain death at the witch's hands, Sonja must recover the ancient, destructive artifact from a fabled city of magicians buried beneath the desert. Surrounded by zealots, the She-Devil with a Sword must face her greatest adversary yet: a deadly doppelgänger who shares her form, mirrors her martial skill, and knows no mercy! Featuring an extensive cover gallery of all the variant artwork to Red Sonja #61-66.
Dynamite Entertainment  |  Color |  144 pages  |  Softcover  |  Teen+  |  $19.99US
ISBN-10: 1606904094
ISBN-13: 978-1-60690-409-1
Order from Dynamite Entertainment or Amazon.com.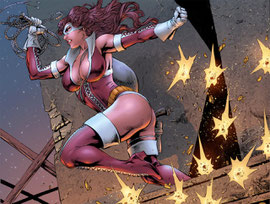 And, of course, now I'm writing another red-haired warrior woman for Dynamite, this time the Zorro universe character Lady Rawhide. 
Lady Rawhide: Sisters of the White Rose #1 (of 5) came out today, and the advance reviews have been pretty positive. I particularly like this one from the folks at Geeks of Doom. 
For those who don't remember (or were too young to): Lady Rawhide began as a spin-off character (created by Don McGregor and Mike Mayhew) from Topps Comics' Zorro comic series in the early 1990s. Lady Rawhide is the alter ego of Anita Santiago, a young woman who's brother is mistaken for Zorro and is blinded by the bad guys. In response, Anita dons the Lady Rawhide identity to avenge her brother and to generally make Zorro's life difficult (as she felt he bore some responsibility for her brother's fate). 
Over the years, Lady Rawhide and Zorro made their piece, and now, we rejoin her a few years after her last documented adventure, and learning that, as she donned a mask in response to Zorro's vigilante crusade, so too has a new generation of outlaws. 
Fun, swashbucklin' stuff. I hope you check it out.