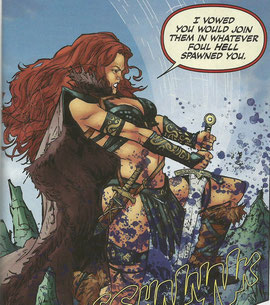 Marc Mason at Comics Waiting Room has been conducting a fairly long form dissection of my complete run on Red Sonja for Dynamite Entertainment. 
I had a lot of fun on that book, and it was the longest uninterrupted run I've ever had on a book. (For an overview, head on over to the Comics section). 
The interview is broken up into five parts, the first four of which are available now. 
To read 'em, follow the links below: 
Part 1. (Or, how I got started writing Red Sonja and never looked back.)
Part 2. (Or, Medieval Robots and writing action scenes.)
Part 3. (Or, slaughtering one's supporting cast.)
Part 4. (Or, pulp, dragons and the light at the end of the tunnel.)
[New] Part 5.

(Or, the melancholy ending.)
If you like them, share the links around and drop Marc a line and let him know.