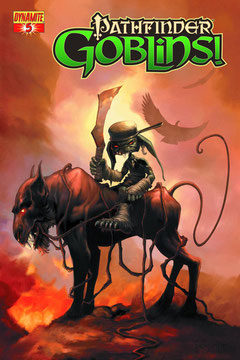 Today's issue of Previews includes a solicit for Pathfinder Goblins! #5 (of 5). 
Along with my good friend, Larry White, I have a story included in the issue. 
Pathfinder Goblins! #5
Written by: Eric Trautmann & Larry White; [tbd]
Art by: Kevin Stokes, Adam Moore
Cover by: Kevin Stokes
Our Goblins! series concludes with two more glory-soaked tales of goblin lore! In "The Ballad of Ak" we follow the rise and fall of a chief's assistant who is bullied and tormented by the rest of the tribe. And in "Legendary" (Trautmann & White), the misadventures of Muttonchomp and his less-than-trusty dog are proclaimed by the campfire—a tale of one goblin's rise to infamy alongside his "faithful" companion. 
Dynamite Entertainment  |  32pg.  |  Color  |  Teen+  |  $3.99US